Tristan : "Life is a video game: choose your level!"
Time to check out the main feature of our latest BA.Life Magazine! We had the chance to sit with Tristan to discuss the opening of his business, check it out here!
27-year-old Tristan is super driven! This former "jack of all trades" made stops in many different European countries, working here and there as a seasonal worker before moving back to France to start his journey as an entrepreneur. Today he runs his company in Marseille and his moto is super clear: "be solution oriented!"
Tristan always knew that he wanted to work for himself, loving the adage: "we reap what we sow", he never liked authority and always had this need to be in command. In 2013, Tristan came back to France after having worked as a seasonal worker and started a Masonry training course with the idea of opening his own business: "I needed to know the basics if I wanted to one day be able to be an entrepreneur in this environment, but I quickly realised that it was going to take a lot of time and it was not very stimulating from an intellectual point of view."
This is how he discovered the opportunity to become a Brand Ambassador in Lille, his hometown. "At first it was not that I was really skeptical, but I was a little more like waiting to see if everything people said was true, if I could actually make what people said they made. I had the confirmation at the end of my third week and from there I focused on my personal development, improvement and learning. I was a pretty impulsive and impatient person and I told myself that by working in contact with people every day, I could improve these traits."
In 4 years, Tristan went from a Brand Ambassador to running his very own company: "I think that if I could say something to day-one Tristan it would just be something like 'it's all good, you're on the right track'. In four years, I've moved cities several times, worked on multiple campaigns, I had time to build myself and this gave me all the confidence and skills to be where I am today. I was always confident that I was going to succeed, but how and where I did not know, so I focused mostly on my personal development and I think that's what the key to my success is."
Today at the helm of his company, Tristan has a specific philosophy: "My goal in the end is that people reach their own goals and that's why one of the core values of my company is'  - I'll never help you more than you are ready to help yourself'. I attach the BAs goals to mine. If for example, a guy just wants to make a lot of money and then go traveling, I'll help him achieve that by advising him or sending him on road trips that will benefit him because that serves his goal. Whereas if someone wants to grow and coach people, then I'll focus on that."
If he were to give advice to the new or future Brand Ambassadors, Tristan would probably give you the following analogy: "First you have to see life as a video game where you only have one life, you do what you want, but if you want the biggest rewards, it's up to you to play and complete the most difficult levels."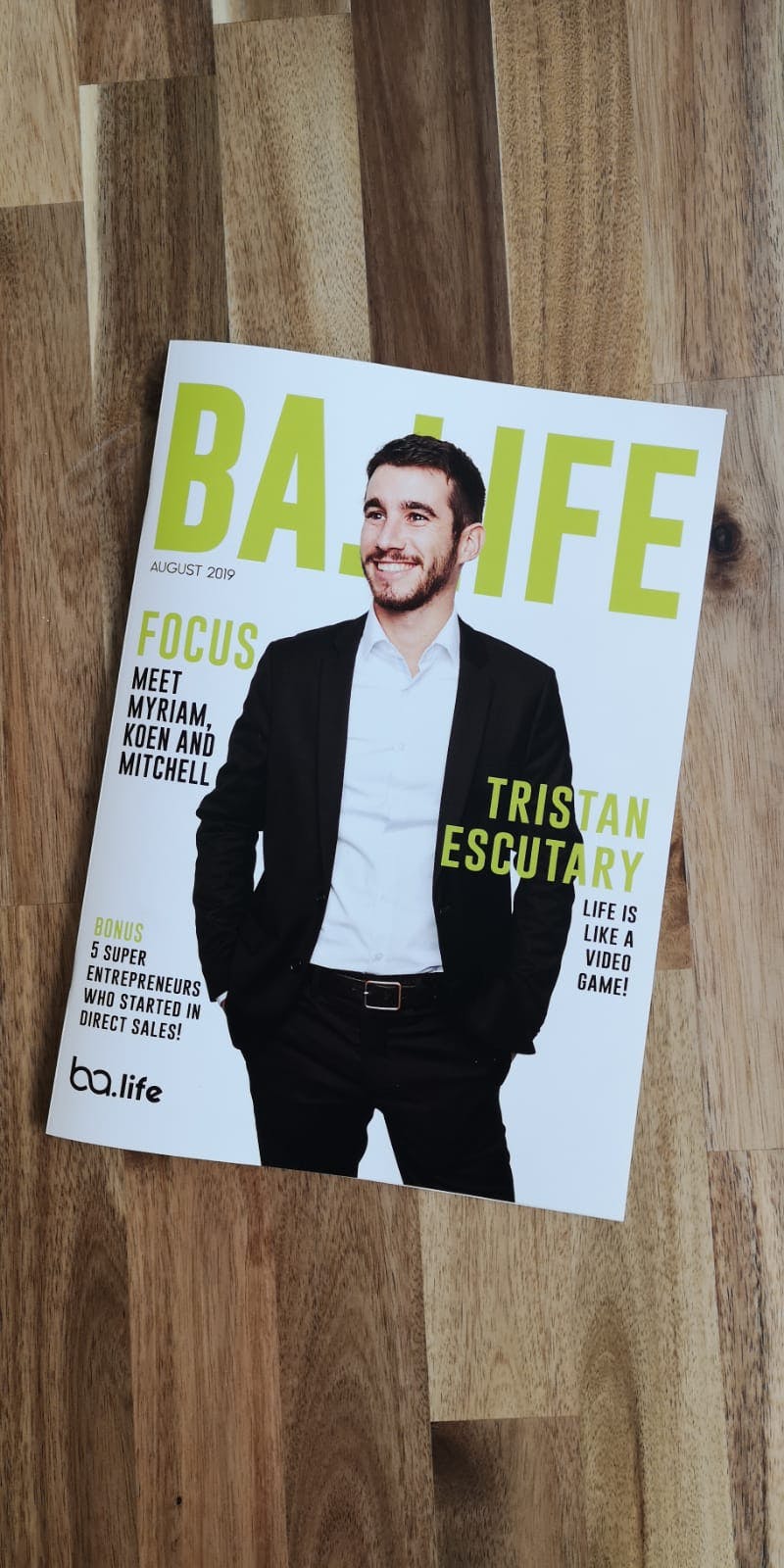 Do you want to be featured too? Share your story, grow your network and show what being a Brand Ambassador means to you! Don't forget to check Why now is the best time to start!
Don't forget to check out our upcoming events here!
Do you have more questions you want to ask or do you want to be featured on BA.Life? Get in touch with us here on Facebook and Instagram!